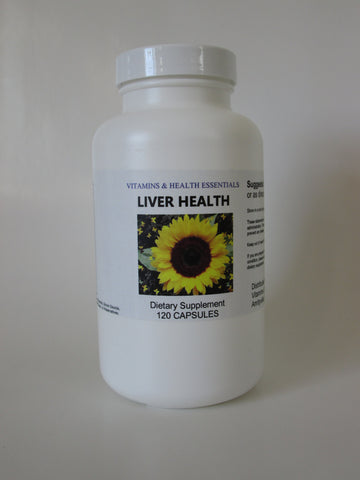 LIVER HEALTH Dietary Supplement, 90-count Capsules
 Liver Health is a dietary supplement that is designed to support, protect and repair the liver
Supports: fatty liver, chronic liver disease, cirrhosis, necrosis, jaundice, liver damage from alcoholism, bile production, and fibrosis
Product Description:
Size: 90-count Capsules
Liver Health is a dietary supplement that is designed to support, protect, and repair the liver. It contains: N-Acetyl-Cysteine,  Milk Thistle Extract, Turmeric Extract, L-Glutathione, Alpha Lipoic Acid, Artichoke Extract, Dandelion Root. These ingredients combined, treat fatty liver, chronic disease, cirrhosis, necroses, jaundice, liver damage from alcoholism, bile production, and fibrosis.
The role of key ingredients:
Milk Thistle Extract: The active ingredient of Milk Thistle Extract is the chemical Silymarin, which protects the liver from toxins. It is an antioxidant known to neutralize many free radicals: it can prevent cell death and tumor formation caused by UV irradiation. It has anti-inflammatory properties and helps liver cells damaged by alcohol, hepatitis, and other toxic substances. It has also been seen to improve the symptoms of chronic liver disease and cirrhosis.
Turmeric Extract: Turmeric shares similar liver protectorant compounds that Milk Thistle and Artichoke Extract have. It has been seen to shrink engorged hepatatic ducts and can be used to treat hepatitis, cirrhosis, necroses, and jaundice. In addition, it can treat skin conditions such eczema and acne since it is a potent detoxifier. Turmeric also improves digestion by reducing gas and bloating. It also stimulates bile production in the liver and encourages the excretion of bile via the gallbladder-improving the body's ability to digest fats.
Artichoke Extract: Another antioxidant which promotes bile flow and production, protects the liver from toxins, and has been seen to decrease fat and cholesterol levels in the liver. Furthermore, it increases blood circulation in the liver and stimulates cell division.
Dandelion Root: Benefits liver function and stimulates the release of bile from gallbladder. It has the ability to clear obstructions and stimulate the liver to detoxify poisons. It restores the gastric balance in patients who suffered from severe vomiting.
Important Information:
Ingredients: Milk Thistle Extract, Turmeric Extract, Artichoke Extract, Dandelion Root, Alpha Lipoic Acid, L-Glutathione, and N-Acetyl L -Cysterine.
Other Ingredients: Hypromellose and Rice Flour.
Does NOT contain: Sugar, Gluten, Sodium, Artificial Colors or Preservatives.
Serving Size: 4 CAPSULES
Suggested Usage: 4 capsules daily, or as directed by a health practitioner.
Safety Warning: This supplement has not been evaluated by the Food & Drug Administration. This product is not intended to diagnose, treat, cure or prevent any disease. Keep out of reach of children.
If you are pregnant, nursing, taking any medication or have a medical condition, please consult your healthcare practitioner before taking any dietary supplement.
Legal Disclaimer: Actual product packaging and materials may contain more and different information that what is shown on our website. We recommend that you do not rely solely on the information presented and that you always read labels, warnings, and directions before using or consuming a product.